We work for a wide variety of organisations, providing high class products and services to support projects of all sizes:
Project 1
We supply products and landscaping services for large construction projects
We supply a wide variety of new build projects with large quantities of our products and provide a full and prompt delivery service.
In this construction project we provided a full landscaping service, covering over 2,500m2. This included ground preparation, weed clearing and prevention, rotivation and leveling of the area, plus full laying of the turf and seed bed.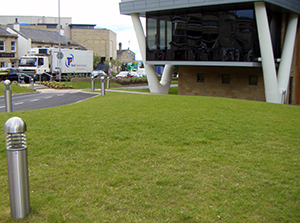 Project 2
We supply products and landscaping services for sports grounds and facilities
We regularly supply driving ranges with quantities in excess of 250m2 of the best value mid-range turf to meet their needs. Ensuring they can continually provide a professional, tidy, crisp green for the keenest of their golfing customers.
Our customers return to us to maintain their quality landscapes because our service is efficient, competitive and reliable and the quality of our products is consistently high.
Project 3
We supply products and services for garden landscaping and improvement projects
We provide a full range of turf products to suit gardens of all shapes and sizes, whatever the budget available.
Our full landscaping service can include: complete installation of garden drainage, including supply of hardcore and sand; supply of soil; weed prevention; rotivation; levelling; full preparation of the area to enable turf laying; laying of turf, edge shaping and finishing to create the perfect lawn.